About Palermo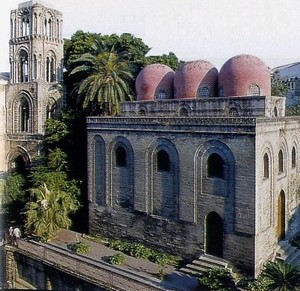 Palermo is the capital of the Italian autonomous region of Sicily and one of the most important cities in the Mediterranean. Palermo was established by the Phoenicians in the 8th century B.C., nearly 3,000 years ago. Since then, it has enjoyed an immensely colourful history being occupied or influenced in turn by the Greeks, the Carthaginians, the Romans, the Arabs, the Normans, the Swabians (Friedrich II's tomb is in the Cathedral of Palermo), the Spanish, the Austrians and finally the Bourbons. These many influences have helped to create a truly cosmopolitan culture which is reflected in the art, architecture, music and cuisine of Palermo and Sicily in general.
In 2015, the Arab-Norman Palermo has been included in the UNESCO World Heritage List.
Recently, "The Guardian" included Palermo in the hotlist of the places "Where to go on holiday in 2018": "The Sicilian capital may have been named Italy's capital of culture for 2018 but its credentials as a cultural melting pot stretch back almost a millennium. A memorial stone on display in the city's Moorish Zisa palace records the interment of a noble lady's remains in four languages: Latin, Greek, Arabic and Hebrew. Such openness to other traditions is typical of this city, often referred to as a mosaic – a pattern weaving in Spanish, Norman, Bourbon and British influences, too".
How to get to Palermo
The easiest way to get to Palermo is by plane:
Palermo has an international airport called "Aeroporto Falcone Borsellino" or Aeroporto di Palermo (PMO). It is located 35 km (to the west) from the city centre and is connected to the city centre by taxi and by public transports (a very convenient bus service connects the airport to the city centre every 30 minutes).
A possible alternative is the Airport "Vincenzo Florio" of Trapani Birgi, which is about 112 km west from Palermo. You may consider, as well, to fly to the international Airport "Vincenzo Bellini" of Catania, which is about 200 km east from Palermo. These two airports are connected to Palermo by a bus service.
Weather
Palermo has a Mediterranean climate with mild (rainy) winters and warm and sunny summers.
The weather is usually nice in September: Av. Temperature 25°C - Min. Temperature 22°C - Max. Temperature 27°C; Sunshine Hours 8 hrs/day - Av. rainfall 40mm - Rainfall days: 9 - Sea Temperature 25°C.
[ Home ] [ Organizing Committee ] [ Program ] [ Registration ] [ Info & Contacts ] [ First circular ] [ Second circular ] [ About Palermo ]