Icar09 - Structural Engineering - Laboratory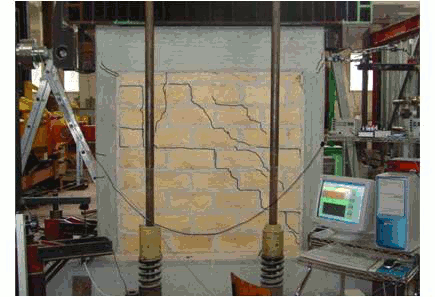 The group of teachers in the sector ICAR09 conducts experimental research and performs special tests for third parties making use of the laboratory of Materials and Structures in Viale delle Scienze - Building 8 .
The laboratory is equipped with a press with a capacity of 4000 kN and a universal machine with a capacity of 600 kN , in tension and compression , as well as a large space with horizontal and vertical contrast devices where it is possible to perform the most varied tests on structural elements or parts of structures in small or full scale. The contrasts can be equipped with screw or hydraulic cylinders with various capacities for static tests, or with an actuator powered by a pump with a capacity of 80 l/min for static, dynamic or pseudo- static tests. The laboratory has all the electronic equipment for the automatic reading of structural responses and the devices for the acquisition of the force levels directly from the load cells .
In addition to classic material testing as prescribed in L.1086/71, teachers in the field and laboratory technicians have adequate experience in carrying out bending tests on reinforced concrete, wood and steel beams, load tests on trusses, compression tests for the mechanical characterization of masonry, but also ordinary, diagonal and eccentric tests, lateral load tests on single-storey and one span frames with and without infills, on both reinforced and ordinary masonry walls even in the presence of openings, compression tests, centered and eccentric, on portions of columns, load tests on portions of vaults, arches, steel trusses, sheet metals, etc. Tests are also performed on elements made of innovative materials and on other elements such as joints, columns, walls, reinforced with traditional techniques or by means of innovative materials such as composites, reinforced mortars, etc.
In addition, the laboratory is engaged in the qualification of the mix design for concrete and has the equipment for the characterization in situ of materials and structural elements.