Cecilia Tramati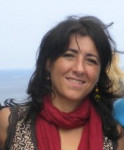 PhD, Research Associate
Name: Cecilia Doriana Tramati
Nationality: Italian
Email: cecilia.tramati@unipa.it
Cecilia Doriana Tramati, born in Erice (Italy) in 1973, obtained a degree in Biology in 2000 and a PhD in Animal Biology in 2005 at University of Palermo. From 2001 to 2012 she partecipated to several projects with annual fellowships at University of Palermo.
Her research activity is directed towards:
chemical analysis of marine water, in relation to the assessment of the concentration of nutrients (nitrates, nitrites, ammonia, orthophosphate, silicate, Ntot, Ptot) a
biochemical composition of particulate organic matter,
analysis of trace elements in biotic and abiotic matrices in the coastal marine environment, to assess bioaccumulation and biomagnification in food chains
environmental control and management of marine coastal areas,
implementation of national and European legislation on environmental protection,
drafting of projects for the characterization of materials to be dredged and criteria for management.
She is co-author of 8 papers published in peer-reviewed scientific journals.
Latest Publications
Di Leonardo R, Mazzola A, Tramati CD, Vaccaro A, Vizzini S (2014). Highly contaminated areas as sources of pollution for adjoining ecosystems: The case of Augusta Bay (Central Mediterranean). Marine Pollution Bulletin 89:417–426
Vazzana M, Celi M, Tramati CD, Ferrantelli V, Arizza V, Parrinello N (2014). In vitro effect of cadmium and copper on separated blood leukocytes of Dicentrarchus labrax. Ecotoxicology and Environmental Safety DOI:10.1016/

j.ecoenv.2014.01.018

Vizzini S, Di Leonardo R., Costa V, Tramati CD, Luzzu A, Mazzola A (2013). Trace element bias in the use of CO2 vents as analogues for low pH environments: Implications for contamination levels in acidified oceans. Estuarine, Coastal and Shelf Science 134:19-30
Signa G, Mazzola A, Tramati CD, Vizzini S (2013). Gull-derived trace elements trigger small-scale contamination in a remote Mediterranean nature reserve. Marine Pollution Bulletin 74:237–243.
Signa G, Tramati CD, Vizzini S (2013). Contamination by trace metals and their trophic transfer to the biota in a Mediterranean coastal system affected by gull guano. Marine Ecology Progress Series 479:13–24