Via Maqueda, 324
90134 PALERMO (PA)
+3909123867509
dems@unipa.it
didatticadems@unipa.it
dipartimento.dems@cert.unipa.it (Certified e-mail)

DIRETTORE DI DIPARTIMENTO: ALESSANDRO BELLAVISTA
RESPONSABILE AMMINISTRATIVO: MARIO GAGLIANO
Feb 13, 2020
The
Department of Political Science
is pleased to announce the launch on
2 March 2020
of the
Fourth edition of Path of Excellence in International Trade - M.A. in International Relations
. The Path of Excellence, only opened to the best students of the Master's program, who have accrued at least 45 ECTS in the first year of the Master's degree, does represent an extraordinary opportunity to attend to intensive seminars held by national and international experts, scholars, as well as by entrepreneurs and international organization officials. Due to a limited number of participants admissible, interested students are invited to apply for the selection,
submitting their request no later than the next 24 February-Monday
, through the link:
http://bit.ly/pathofexcellence
Dec 2, 2019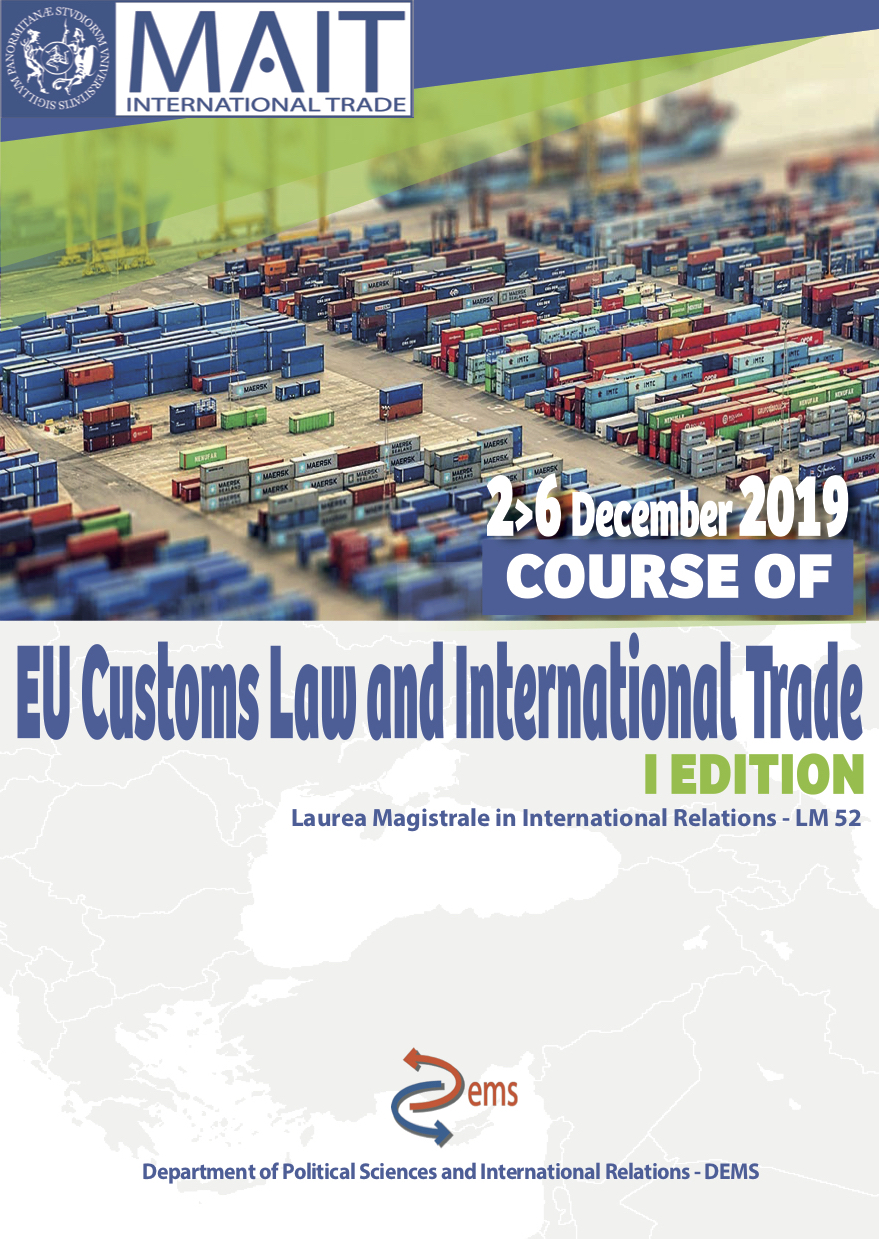 The First Edition of the Course in EU Customs Law and International Trade, entirely delivered in English, does represent a unique experience for all the MAIT students to know better the European customs law essential rules from both theoretical and practical perspectives. The speaker, Mr. Massimo FABIO, is one of the most prominent experts in the sector, authors of several articles and monographs, a legal consultant in KPMG. All and only the MAIT students interested in the Course must fill the enrollment template at
https://docs.google.com/forms/d/e/1FAIpQLSdicte1VpbXBftok_9KtQNcPpW8hZ-z62-O9YITCUGL7UdiDw/viewform
by next Friday, 30 November, noon
Nov 15, 2019
The university of Palermo provides mentoring activities for all the students looking for individual and methodological support.
The mentoring activity consists of:
reception and orientation to all the courses for first year's students.
provision of educational-methodological support in case of difficulties in approaching to certain subjects.
provision of personal consultation and assistance for:

methodological support
supplementary educational activities
academic scientific and cultural activities, foreign studies opportunities

graduand's support in thesis' writing and presentation,including bibliographic research support.
Oct 17, 2019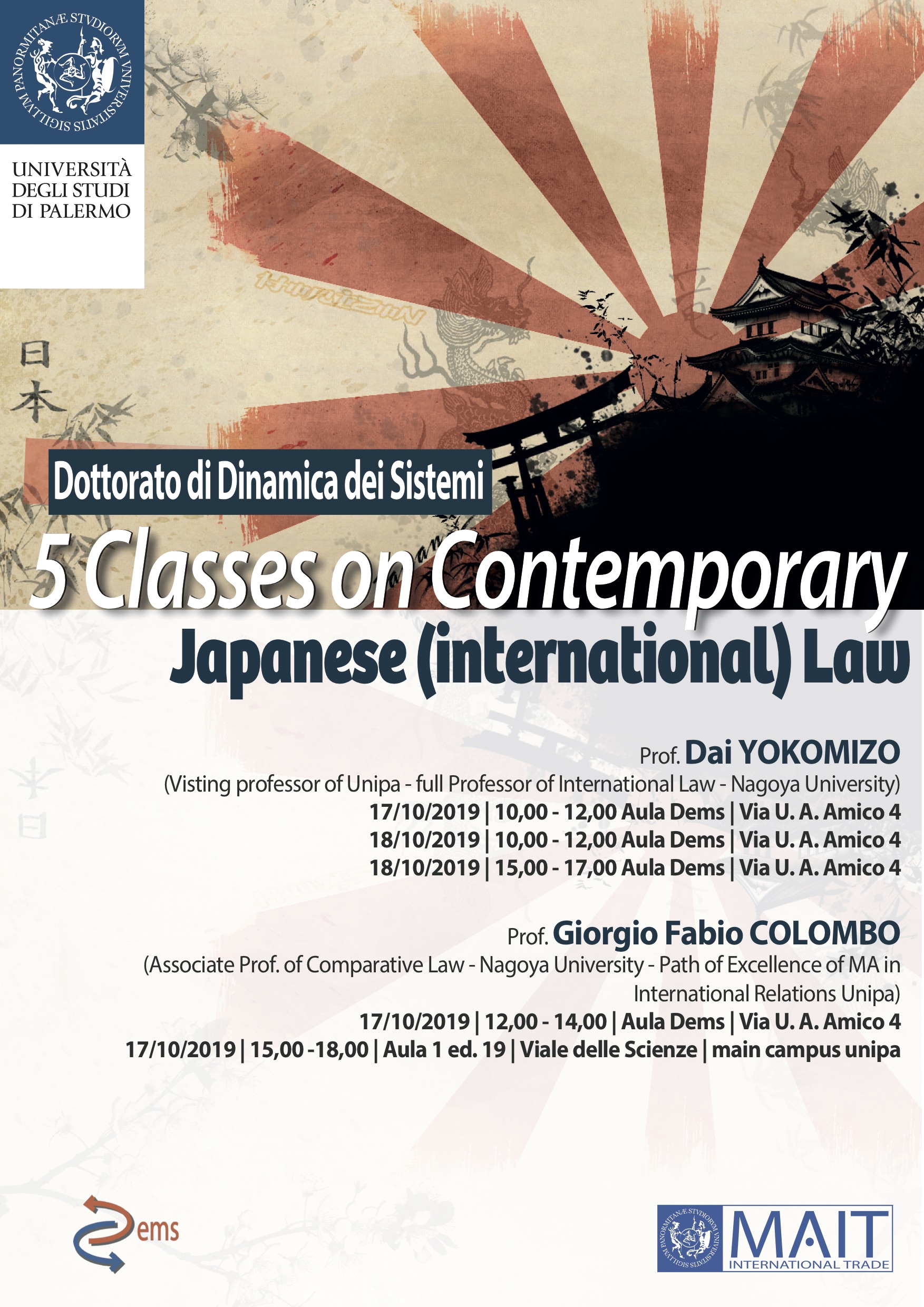 Prof. Dai YOKOMIZO
(Visting professor of Unipa - full Professor of International Law - Nagoya University)
17/10/2019 | 10,00 - 12,00 Aula Dems | Via U. A. Amico 4
18/10/2019 | 10,00 - 12,00 Aula Dems | Via U. A. Amico 4 18/10/2019 | 15,00 - 17,00 Aula Dems | Via U. A. Amico 4

Prof. Giorgio Fabio COLOMBO
(Associate Prof. of Comparative Law - Nagoya University - Path of Excellence of MA in International Relations Unipa)
17/10/2019 | 12,00 - 14,00 | Aula Dems | Via U. A. Amico 4
17/10/2019 | 15,00 -18,00 | Aula 1 ed. 19 | Viale delle Scienze | main campus unipa
May 21, 2019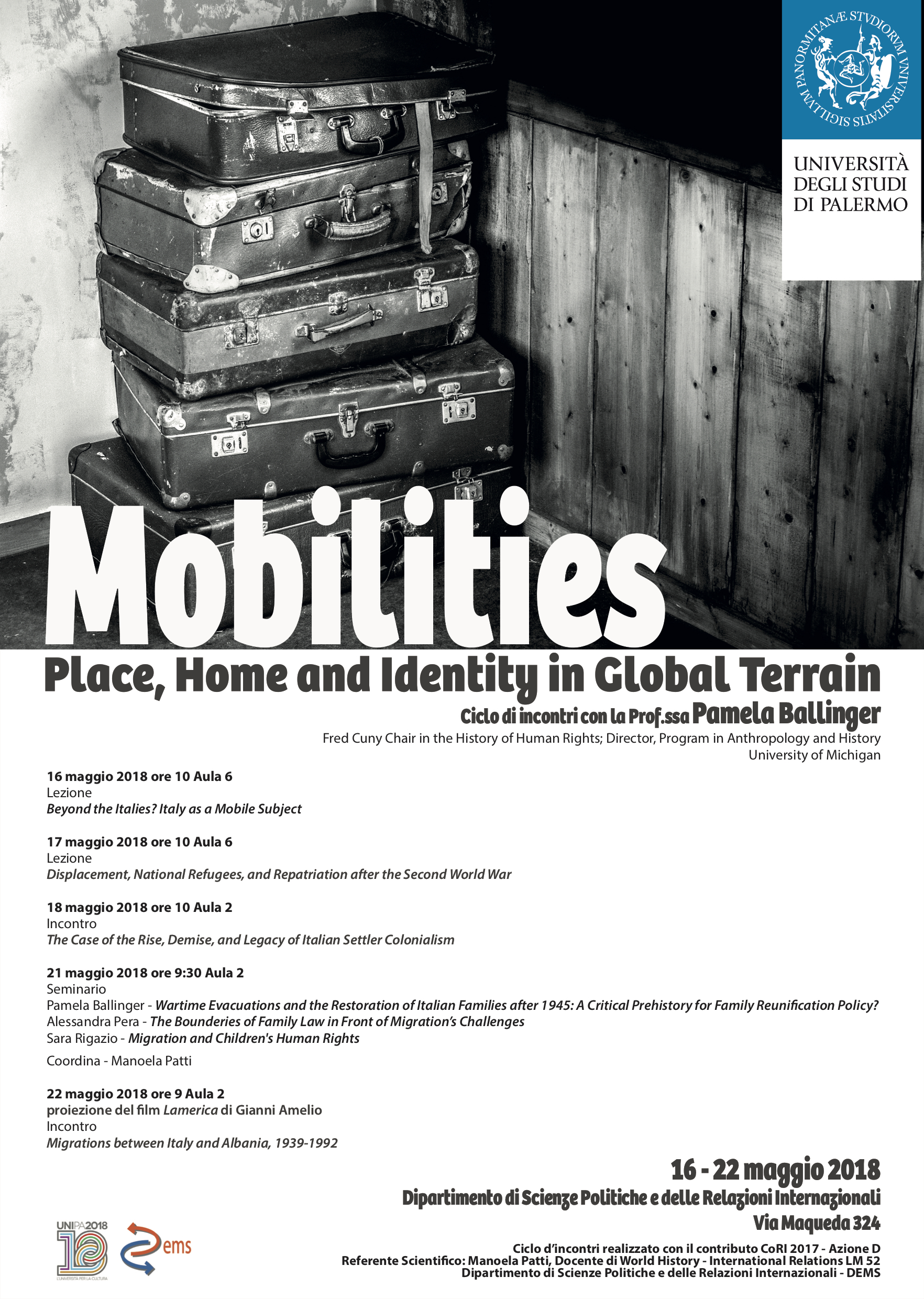 16 -22 maggio 2018, presso il Dipartimento di Scienze Politiche e delle Relazioni Internazionali