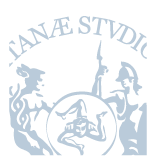 Seat: PALERMO
Active Years: I,II,III,IV,V
Family of degree: LMG/01
Coordinator: CINZIA DE MARCO
Welcome to the Master's Degree Course in Law!
Dear Students,
since 2017, access to the single-cycle Master's Degree Course in Law, at the offices of Palermo and Trapani, is free and there is no need to take any admission tests.
In order to enroll, a good general culture and a good knowledge of the political and institutional history of our country is required. After enrolling, students will answer questions for specific online tests aimed at ascertaining any deficiencies in their training (Additional Training Obligations - OFA) regarding the English language.
The University's Orientation and Tutoring Center (COT) will administer the tests and prepare the online courses to recover the training deficiencies found.
We are happy to welcome you
Notice
Methods of fulfilling the Additional Educational Obligations (OFA) for students enrolled in the academic year 2019/2020.
The CCdS in Law is open access. After enrollment, students must take an online test, organized by the University Orientation and Tutoring Center (COT), to verify their English language skills.
Any shortcomings found by enrolled students will be filled by following courses for the recovery of OFA, which will be held in e-learning mode and prepared by the University. At the end of the recovery courses, the student can take a final test. Anyone who does not participate in the recovery course activated by the University or in the test required for the fulfillment can take the OFA by passing the final exam of the corresponding discipline, that is, legal English.
!