SUMMER SCHOOL 2019 – XI EDITION - 15th of July to 13th of September 2019 - 23/04/2019
Listen
The ItaStra Summer School retur

ns with the same successful programme:
study,
art, sea, sun and enjoyable tours.
ITALIAN LANGUAGE COURSES
Summer School is an intensive study program of Italian language and culture, from a basic to an advanced level for international students from all over the world.
Each module (40 hours) lasts two weeks, from Monday to Friday from 9.30 am to 1.30 pm. Classes are held in well-equipped classrooms.
PROGRAMME:
::: Standard courses (classes in the morning / from all over the summer school period)
::: Advanced Special Courses** (morning / from 29/7 to 9/8 or from 19/8 to 30/8)
::: Special Lab** (afternoon): Italian&Cookery (afternoon / from 15/07 to 26/07)
**Advanced Special Courses: Textuality, syntax, poetry, contemporary Italian language, academic writing and fondamental cores of occidental culture.
**Italian&Cookery: Practical cooking lessons are taught by a qualified chef specialized in Sicilian dishes. A teacher of ItaStra will learn Italian language's contents related to food.
EXTRA-EDUCATIONAL ACTIVITIES
Each module provides for 1 DAY TRIP*** to the most beautiful turistic attraction sites of Sicily (Taormina, Cefalù, Agrigento, Riserva dello Zingaro) and 4 TOURS all around Palermo (Arabic-Normanne itinerary; museums, theatres and churchs).
Young tutors, from the University of Palermo, will support foreign students out of the class, in social and entertaining activities.
***For 1 DAY TRIPS a small contribution is required
DATES AND COSTS:
First Module / 15/07 - 26/07
Second Module / 29/07 - 09/08
Third Module / 19/08 - 30/08
Fourth Module / 02/09 - 13/09
STANDARD COURSE 200
€
.
Standard course plus Special Lab costs 290 €.
SERVICES OFFERED:
Teaching material, accommodation (close to the university) around the historical centre and restaurants. The School offers special programs to
student groups
.
CONTACTS:
Website: www.unipa.it/strutture/scuolaitalianastranieri/
Fb page: www.facebook.com/italianLanguageCoursesItastra/
FB event: www.facebook.com/events/403461730471891/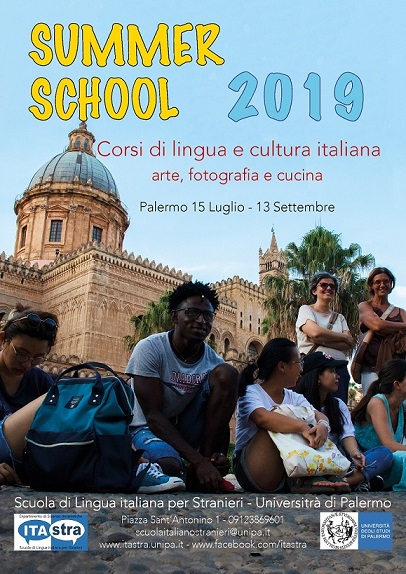 SUMMER SCHOOL 2019 28/02/2019
Listen
PRICE:
300 euros 1 Module of 40 HOURS in 2 weeks
DATE:
FIRST MODULE: 15 July - 26 July
SECOND MODULE: 29 July - 09 August
THIRD MODULE: 19 August - 30 August
FOURTH MODULE: 02 September - 13 September
09/02/2018
Listen
Summer Course Histories of Human Rights 18th-22nd of june 2018
SUMMER SCHOOL ITALIAN LANGUAGE 2017 IN SICILY!
Listen
Starting from July 3rd to September 29th our Summer School of Italian Language and Culture will begin. Our courses take place in Palermo, the most important city of Sicily.
In the attached brochure, you will find detailed descriptions and information about the courses.
We offer courses of Italian Language for all levels, and special advanced courses of Literature, Grammar and Sociolinguistic of Contemporary Italy.
The prices are very affordable, but a special discount for those who buy more than one course is available. Additional discount for groups of five people will also be applied.
Our offer widens even more with afternoon workshops that go from Cooking, to Cinema, to Photography and to Opera. A small supplementary fee is all you need to enrol to them.
Students will also have the chance, besides studying the Italian Language, to live new experiences while spending enjoyable days at the sea, getting close to the local gastronomy and doing small excursions, all free of charges.
Our tutors, Italian native speaker students, will accompany students enrolled in Summer School for all the duration of the courses and they will show them new aspects of the city and Sicily.
Download BROCHURE SUMMER SCHOOL 2017 ItaStra
*
.
Intensive italian courses
Listen
Palermo: a town where you can travel, a town where you can study
At the center of the Mediterranean Sea there is an island that has been the meeting point of people, languages and cultures for three thousand years. That island is Sicily.
In Sicily there is a town, Palermo, that, more than any other, has witnessed a long history.
Palermo is the ideal place where you can study and also enjoy your summer thanks to its climate, its geographical position, its history, its artistic and natural treasures and its food.
In addition to a rich artistic heritage (in Palermo you can find the largest historical center of Italy) Palermo offers the opportunity to relax in Mondello beach or among the rocks of Capo Gallo and Sferracavallo.
Palermo is one of the world capitals of street food. The town also has an important gastronomic tradition that reveals its multicultural past and present.
Studying Italian in Palermo is an opportunity to discover art, culture, the most popular beaches and also the food tradition, which is one of the most important in Italy and a model imitated all over the world.
Studying Italian in the Summer School of ItaStra
Intensive courses of the Summer School of Italian Language School for Foreigners of the University of Palermo (ItaStra) are divided into two-week modules (40 hours of lessons per module) and are led by teachers specialized in teaching Italian as a second and foreign language.
Courses run from Monday to Friday from 9.00 to 13.00.
This year you plan your own Summer
From this year, the Summer School offers the opportunity to attend optional afternoon workshops thanks to our special teaching programmes "Italian &" (see below).
You can also participate to our evening activities (mostly cultural and gastronomic walks) organized by our tutors, who are Italian students attending the courses of the University of Palermo.
For further information, please visit the our website www.itastra.unipa.it or send an email to scuolaitalianostranieri@unipa.it
Summer Course Poverty, Development and Human Rights
Listen
Scuola di Scienze giuridiche ed economico-sociali
Dipartimento di Giurisprudenza
Dottorato di ricerca in "Diritti umani: evoluzione, tutela e limiti"
European Academy of Legal Theory di Bruxelles
École doctorale de Sciences Juridiques et Politiques, Université de Paris – Nanterre
Master de Argumentación Jurídica, Universidad de Alicante
Summer Course
Poverty, Development and Human Rights
Palermo 27 Giugno – 1 luglio 2016
The application form, along with the documents above mentioned, can be sent, also, by e-mail at teresa.affatigato@unipa.it
Summer School 2016
Listen
Torna la Summer School di Itastra!
Anche per l'estate 2016 la Scuola di Lingua italiana per Stranieri ha previsto un ricco programma di corsi intensivi, per studiare la lingua italiana nella splendida cornice della città di Palermo.
Come ogni anno, alle lezioni in classe si accompagneranno attività opzionali fuori dall'aula che permetteranno agli studenti di conoscere meglio il territorio siciliano e approfondire aspetti fondamentali della cultura italiana come la cucina, il cinema e l'opera.
Per avere maggiori informazioni, consulta la brochure:
Brochure (versione italiana)
Brochure (English version)
Brochure (Chinese version)